After the Books for Men extravaganza yesterday, here's the books for Her post.  My mum and my sister both get books from me as part of their Christmas present, and it's often tricky, because I pass them my favourite books through the year so I have to try and find something different!  As with yesterday's post, my links are to Amazon, because lots of these are 3 for £10, or reduced in some way – thus freeing up more money to spend on yourself other presents.
Fiction
I find fiction recommendations easiest, but some of this is depending on what sort of present your buying the book as. Most of my book purchases are as stocking fillers or extra presents, rather than the whole present – so I give a lot of "lighter" fiction.  My mum's asked for Anne Tyler's A Spool of Blue Thread for her Christmas book (I'm sure she won't mind me telling you) and tells me that she just loves her other books, so if you know someone who's read her Booker nominee from this year, it might be worth checking out the back catalogue too.
I've mentioned Beatriz Wiliams' A Hundred Summers in a BotW post and that's definitely worth a look.  I also have her latest – Along the Infinite Sea – on my to-read pile, but I haven't managed to get to it yet.
In a shameless plug for a friend, I loved Kirsty Greenwood's Vintage Guide to Love and Romance when I read it on holiday earlier this year (back in my early days of reviewing for Novelicious and before I'd met the lady herself).  Equally Lucy Robinson's The Day We Disappeared or Mhairi McFarlane's It's Not Me It's You would make great stocking fillers and although they came out earlier in the year (all on the same day in fact!) they aren't summery books, so would be fine to give in December!
If you want to buy hardcover, I loved Laura Barnett's The Versions of Us (which I mentioned along with Vintage Guide in my Summer Recs list, but hey, when a book's good, it's good)- it's Sliding Doors meets One Day and every bit as amazing as that sounds.  The paperback is out on December 31st.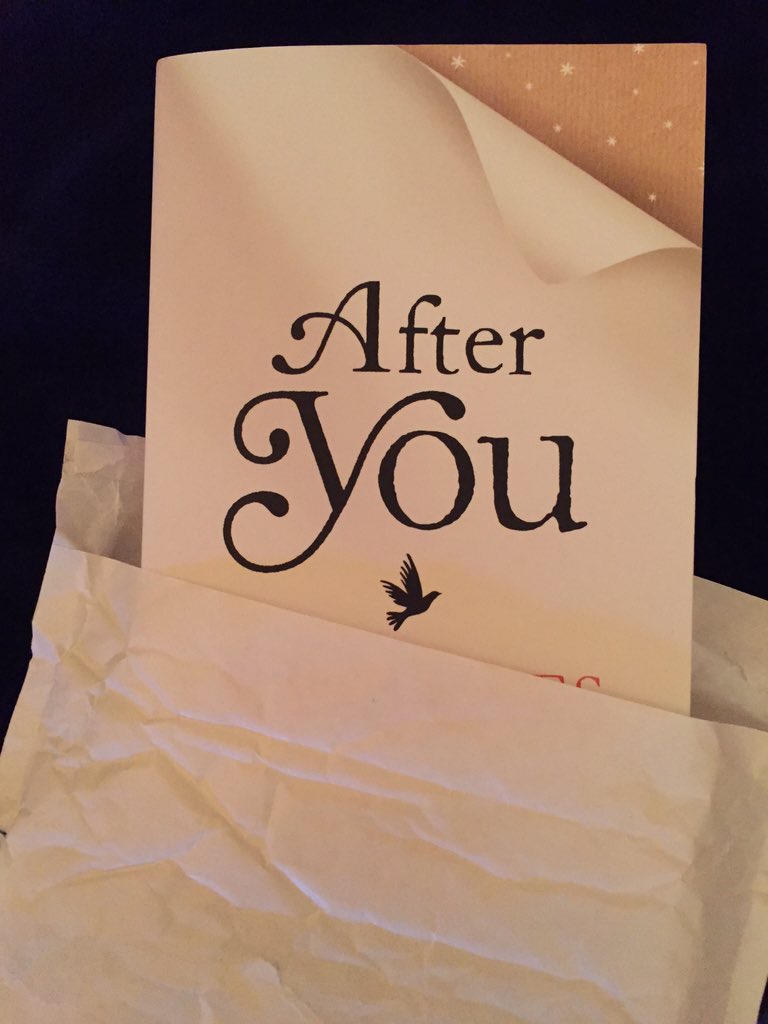 Also only in hardback or ebook at the moment is Jojo Moyes' much awaited sequel to Me Before You, After You.  I read this last week, and whilst I didn't love it the way I loved Me Before You (see BotW squeals here), it's still a good read – and would be a gift option if you know someone who cried their way through Lou and Will's story and wants to know what happened next.  Another hardback option would be Paula McLain's latest Circling the Sun.  I've just lent my copy to mum – who has been raving about The Paris Wife, which she finished last week.
It's nice to be appreciated!
Non Fiction
I always find non-fiction harder to recommend.  I'm a history graduate so a lot of my non fiction reading falls into that and I also find it easier to recommend fiction for women.  Probably because I read mostly fiction, but I'm sure someone will say this is unconscious bias, the patriarchy etc.  Still I'll have a go.
You may remember this from a previous BotW post – but I need to give another mention to The Astronaut Wives Club, which would I think would go down well with loads of people – Mad Men fans, history fans, Americana fans etc.
The Roman Empire is not my period (I like my history modern enough that I can identify with the people, so usually post c1450) but I found How to Manage Your Slaves both funny and fascinating.  It's got a lot of facts packed in there, but wears it lightly and is very readable.
I won a copy of Sali Hughes Pretty Honest last year, literally a day after I'd told my mum to buy it for me for Christmas.  I haven't read it cover to cover, but I have dipped in and out repeatedly and found it really good.  I think this would work for a lot of people without being seen as being judgy.  And if if you have a teenage girl to buy for and you want to do more than just buy a make-up gift set from Boots or the current books from the latest YouTube sensation, this could be just the job.
I have the paperback of Lena Dunham's Not That Kind of Girl sitting on my to-read pile, I haven't read it yet, but I bought it because I'd heard a lot of good things about it.  And if you know a Girls fan (I don't have Sky Atlantic) then this might make a good choice, but watch out, because it came out in hardback for last Christmas. Also out in hardback last year and in paperback all over the place now is  Amy Poehler's Yes Please which I really want to read and which might work if your giftee hasn't already had it.
Miscellaneous
There are some people for whom a really pretty book is just the job.  Foyles used to have a helpful section of this sort of book in the front of their old Charing Cross Road store – I'm sure there's an equivalent in the new store (even if I haven't spotted it yet).  Virago's VMC Designer Collection are great for this – they look gorgeous and the books are good too.  They started coming out a couple of years ago so some of my favourites – like Barbara Pym's Excellent Women – are harder to get hold of, but new ones are still appearing – like Daphne Du Maurier's The Birds and Patricia Highsmith's The Talented Mr Ripley.  Penguin also do a nice line in cloth bound classics – like this Sense and Sensibility.
I also love Bookishly's range of prints – their Pride and Prejudice one would make a lovely gift – if you're buying for a friend, several of the quotations you can chose from are not romantic.  However exercise caution if you are thinking of getting someone an e-reader cover.  I've been caught out on sizes and variations before – all the various kindles seem to be subtly different.  There are some gorgeous ones out there though – I've bought one which looks like an actual book from Klevercase before, but check the model you're aiming for very carefully.
So there you go.  Coming next: Children's book recommendations.