I'll start by saying that Graeme Simsion's The Rosie Project is possibly my favourite book that I've read so far this year.  I've leant it to my sister, my mum and my dad – and they've all loved it.  Don Tillman is one of my new favourite fictional characters – and I loved his "journey" in The Rosie Project.  Thus it was with excitement mingled with trepidation that approached its sequel – The Rosie Effect.  I've had mixed results with sequels – so my overriding thought going into this was "please don't have messed this up Mr Simsion".
The Book picks up around 10 months after the end of The Rosie Project, with Don and Rosie married and living in New York.  One day as they're sitting down to dinner, Rosie tells Don they have "something to celebrate" and suddenly he has a whole new host of challenges to negotiate on the road to fatherhood – and yes I know that's a slight spoiler – but hey – this is one of the posters that Penguin are using: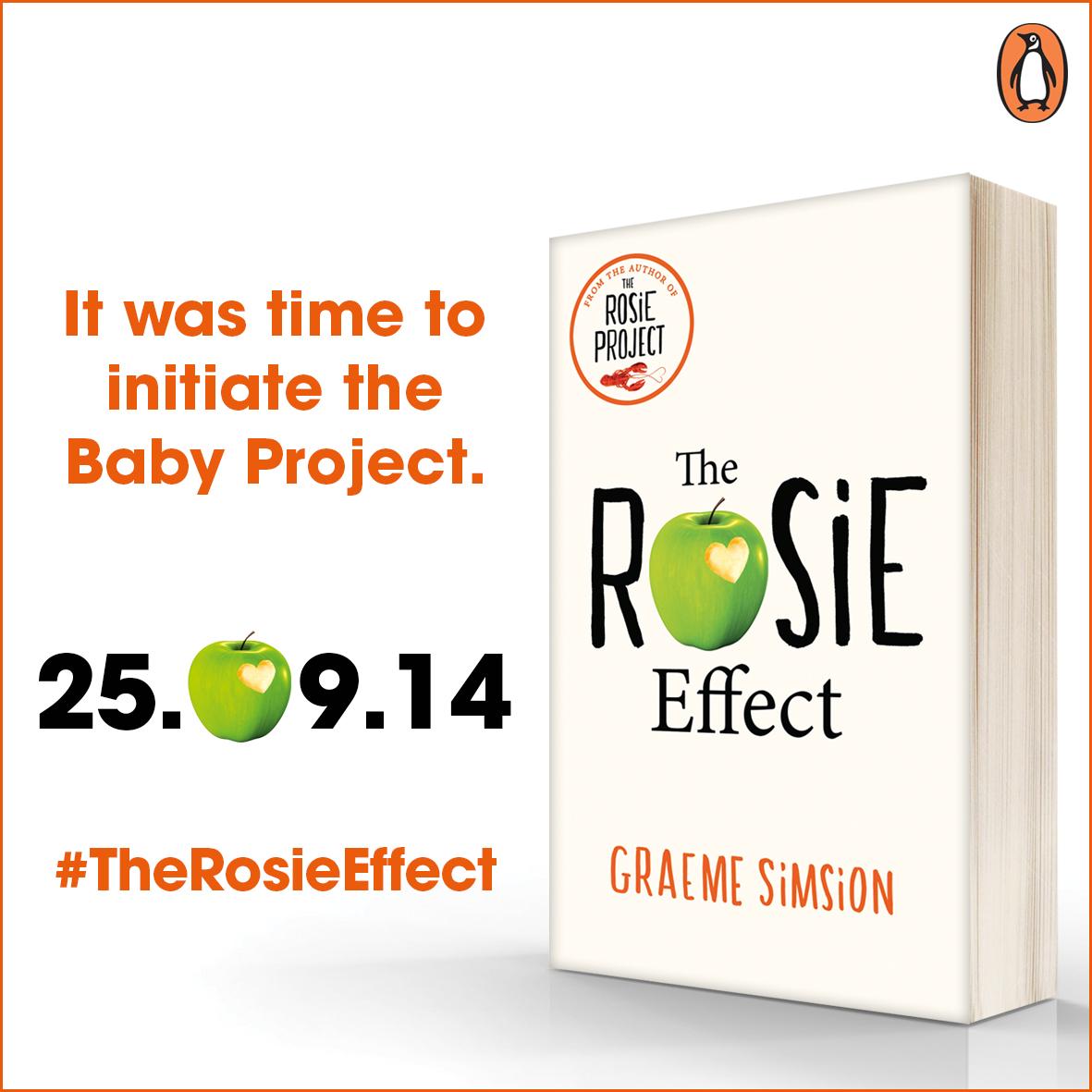 So as you might imagine, the prospect of fatherhood poses a whole lot of questions for Don – who takes life very literally and isn't great with social conventions.  I don't want to say too much more than that, because I think anything else I add is going to be a bit of a spoiler!
The problem with a lot of sequels is that to create a plot, the author needs to create some drama in a relationship, and on this front the idea of a baby is a good one – it's a logical next step for Don and Rosie and doesn't feel forced.  And with the addition of adjusting to life in a new country where there are new rules to learn there is plenty of potential for drama.  However some of the things that happen to Don as a result of the pregnancy do seem a little far fetched and some of Rosie's behaviour didn't seem to sit quite right with the Rosie of the first book.
But I still enjoyed it – and I wonder if my reservations are because my hopes were so high.  Looking at it the other way though, would I have liked the book so much if I hadn't read the first one?  I think probably not – because I needed the investment in the characters that I'd already built up.
So, is it as good as the Rosie Project?  No.  Is it a satisfying sequel for those of us who loved the original?  Well yes – I think so.  After a few rocky moments in the middle – and towards the end – I finished up happy with the outcome.  If you haven't met Don and Rosie before – go and read the Rosie Project first – but, overall, he didn't mess it up.
My copy of The Rosie Effect came from NetGalley in return for an honest review – but I suspect it's going to be widely available from all the usual outlets – like Foyles or on Kindle or you can find it on my shelf at My Independent Bookshop.